Customer Reviews
17/01/2020
Ted C.
Australia
I recommend this product
Brilliant
Socks are bloody amazing, bought 4 pairs and haven't worn any of my other socks since. They are comfortable and high quality and as I write this review on the sh!tter I got a pair on, cAnt go anywhere without them
20/10/2019
Rick H.
Australia
I recommend this product
Really durable!
Bought these because they looked really whacky and something different to the socks I currently own! I got them delivered to work, so I could show them off to my girl at home. On the bus back, a girl sat next to me and talked about how much she loves socks and she noticed mine and wanted to see more. Lucky for her, i own all the designs from the sock goblin and was excited to show her my sock collection at home. My girl said she was going to her therapist for the 4th time that week, and wouldnt be back until late, so I could quickly show this random girl my pair and send her on her way. We get to mine, and go into my bedroom. I go to pull out my pink nang pair only to find this poor girl's clothes missing from her body! I frantically start searching for her clothes because she might catch a cold or something! My girl came back for a minute because she forgot the champagne bottle. I tried to explain that all I wanted was to show this girl my socks, to which this girl replies with, "YOU SAID YOU WERE GOING TO SHOW ME YOUR CO-" Anyways. I have to see my lawyer next week to sort out financials and whatnot. Hopefully I can see my kids :( Will recommend to my lawyer though!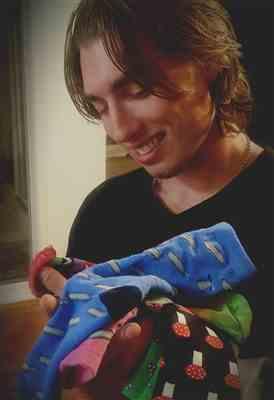 10/10/2019
Mike H.
Australia
I recommend this product
Great Present
I got a pair myself I wear them everywhere especially when i'm ripping a fat nang
I recommend this product
great socks for the family
all five of us fit in them comfortably